EdgeBox-RPI4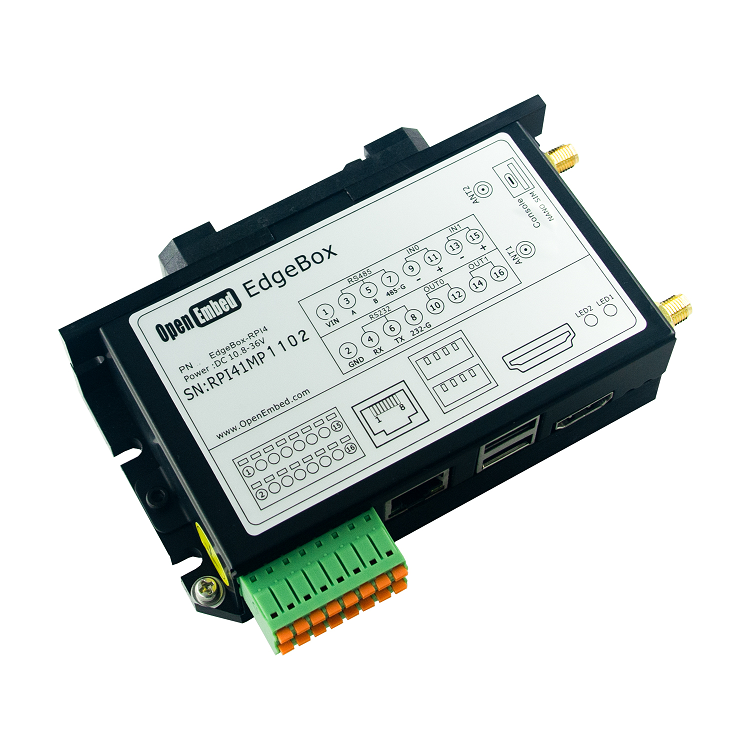 EdgeBox-RPI4
Rugged Fanless Edge Computing Controller with Raspberry Pi Computer Module 4(CM4) for harsh industry environment.It can be used to connect the field networks with cloud or IoT applications. 
OpenEmbed's products are designed from the ground up to meet the challenges of harsh environments at competitive prices, ideal for small business or small order with scale milti-level demands.The EdgeBox-RPI4 is fitted with the Raspberry Pi CM4. It is designed for easy setup and quick deployment for typical industrial applications, such as status monitoring, facility management,digital signage and remote control of public utilities.Furthermore, it is a user-friendly gateway solution with 4 cores ARM Cortex A72 and most industry protocols can save on total deployment costs including electrical power cabling cost and help reduce the product's deployment time. Its ultra-lightweight and compact design is the answer for applications in space-constricting environments ensures it can operate reliably in a variety of extreme environments including in-vehicle applications.
Note:

Product images are for illustration purposes only and maybe don't match what is currently being shipped.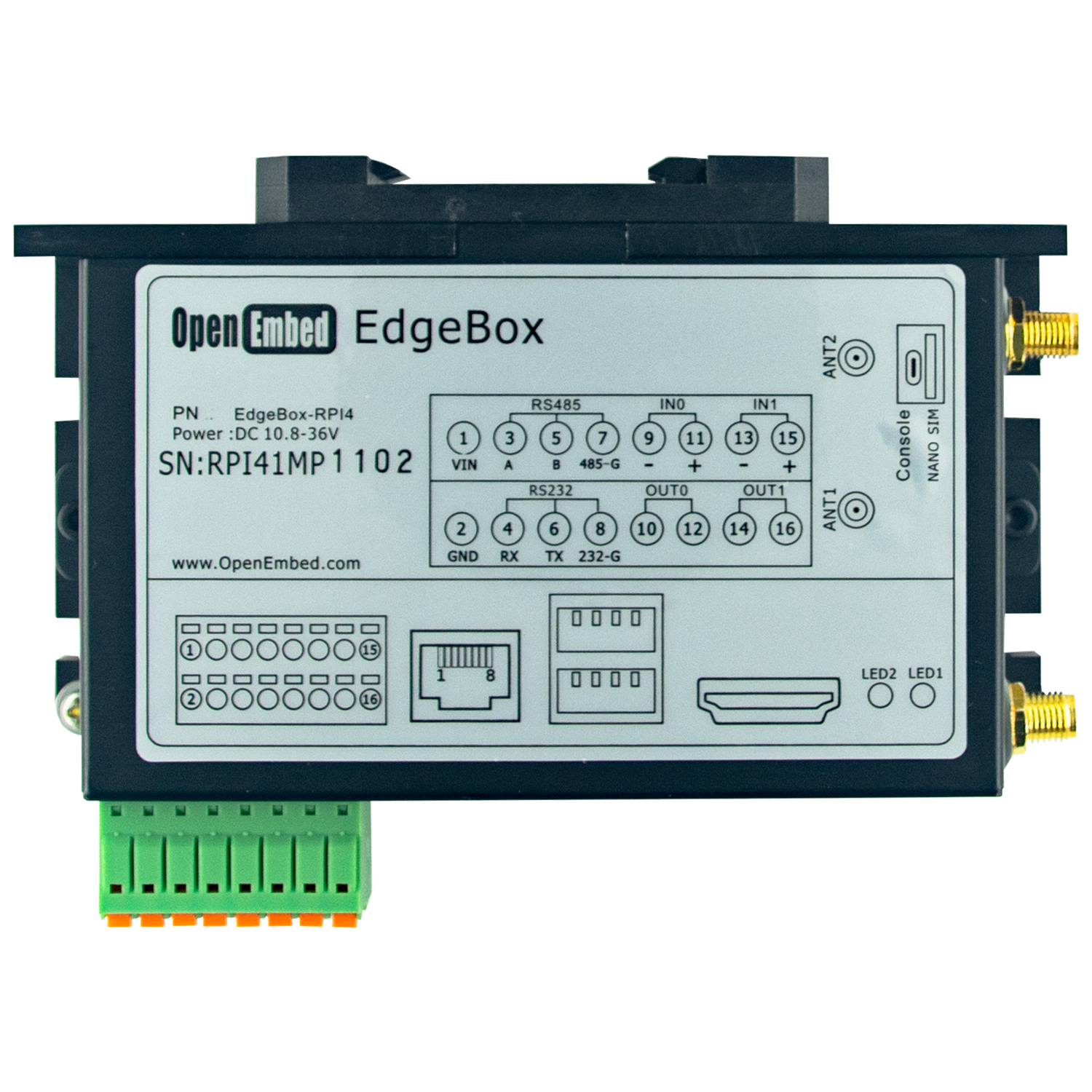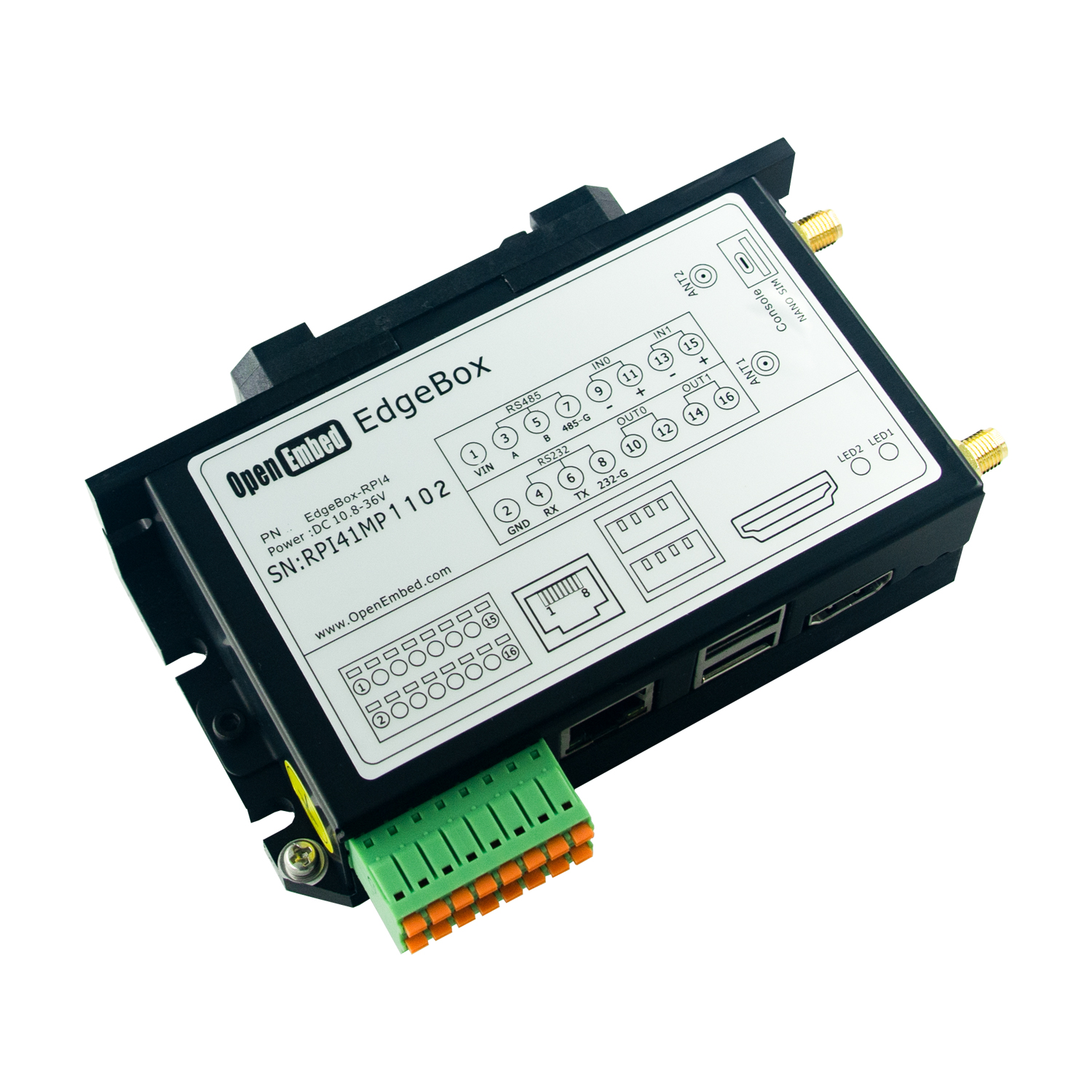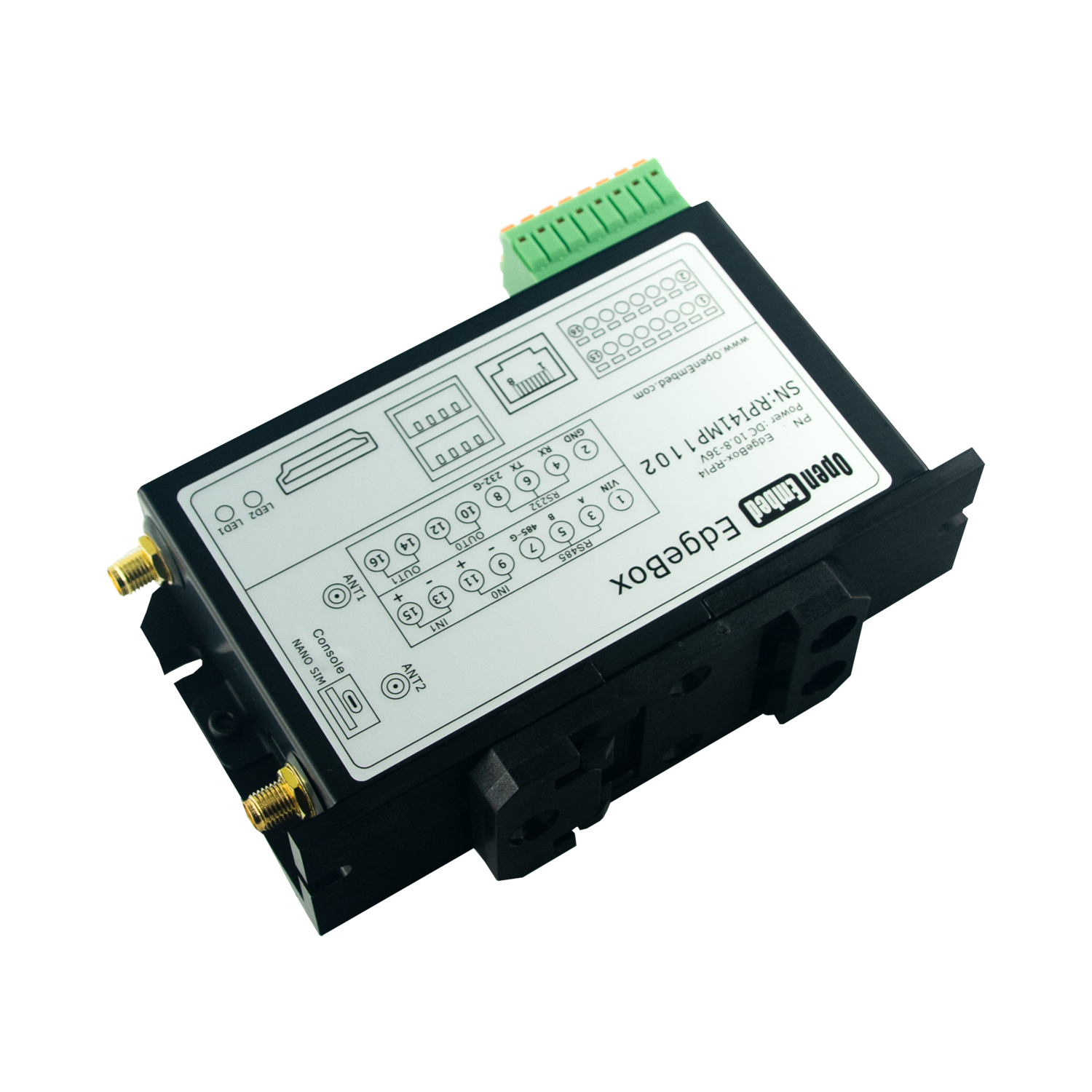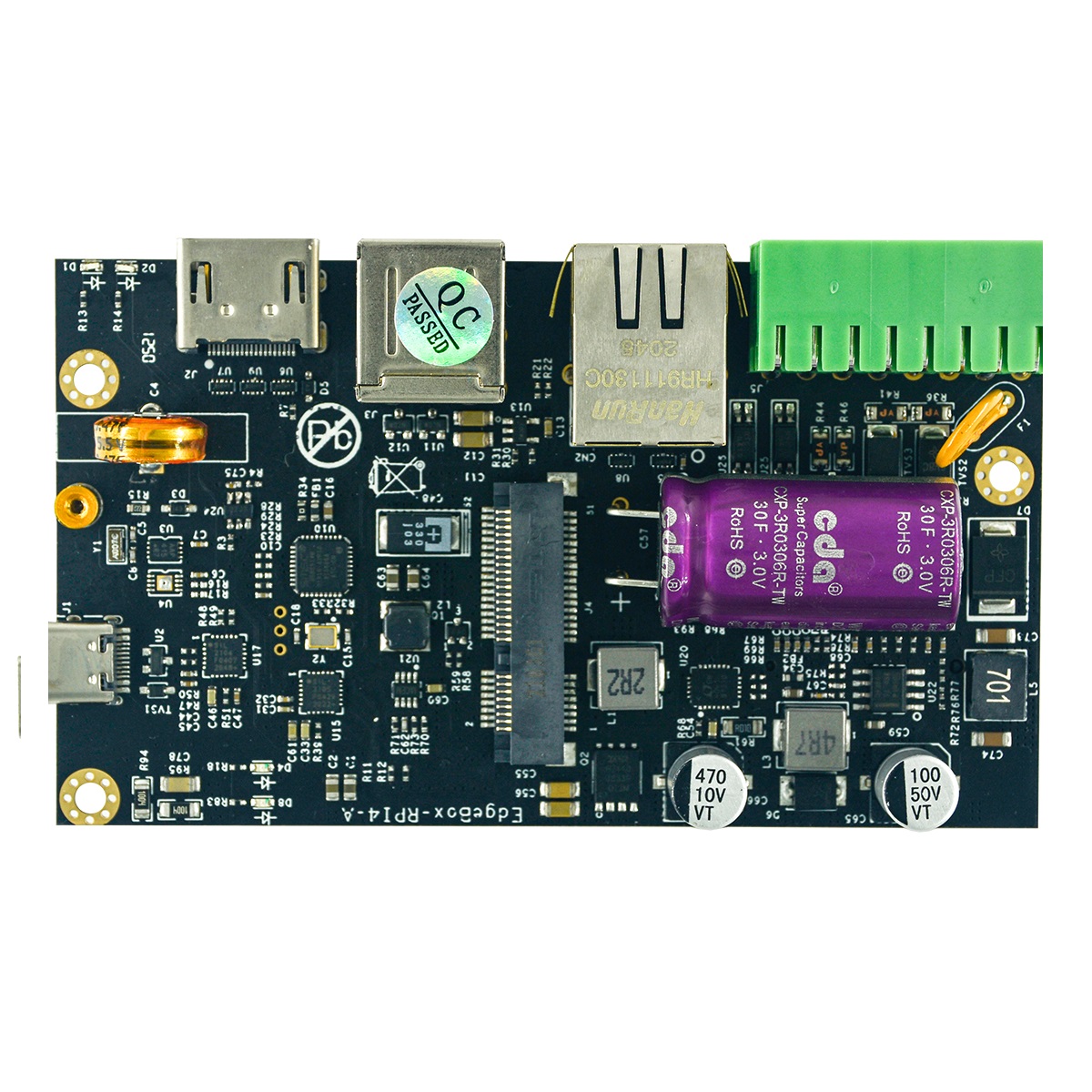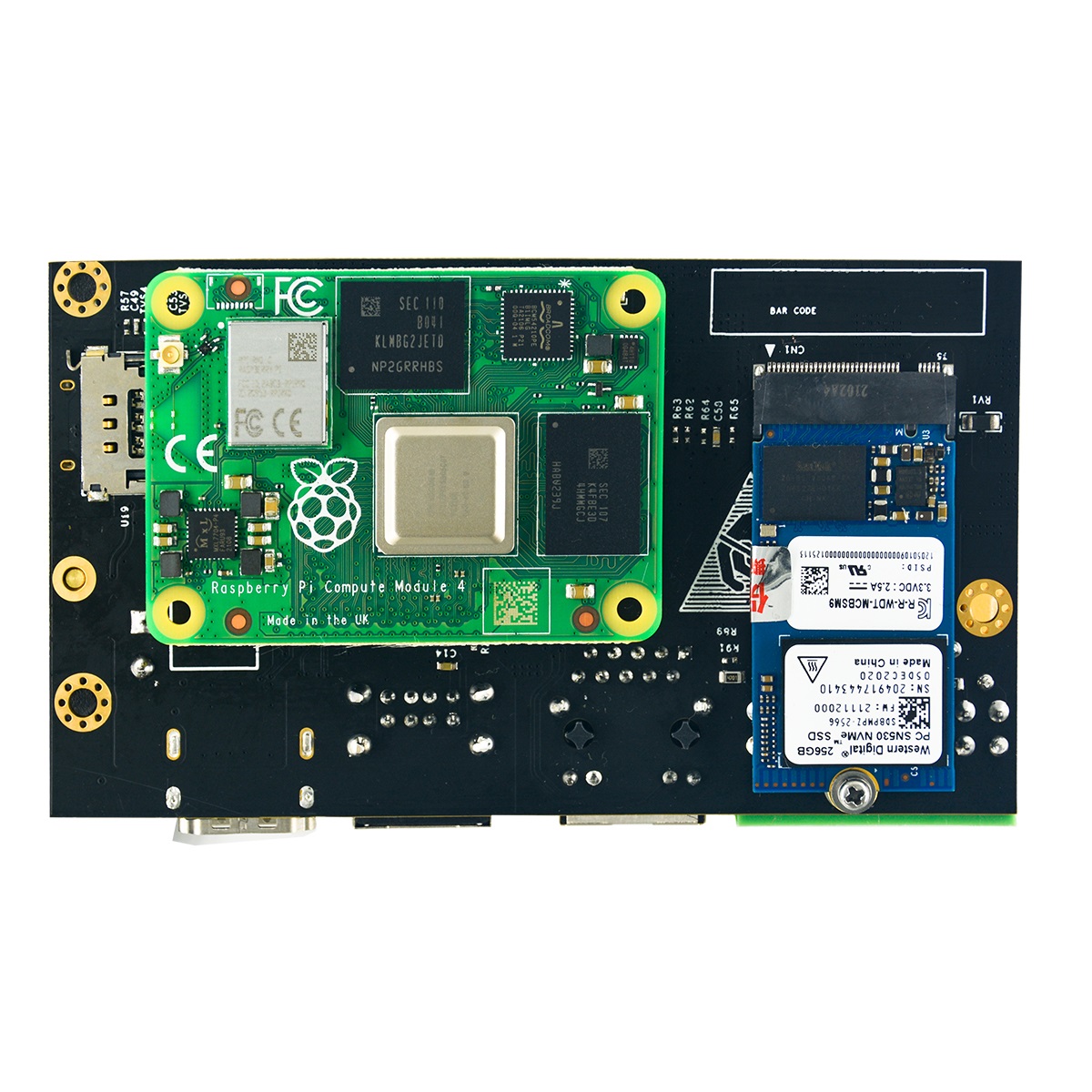 Features and benefits
Raspberry Pi Computer Module 4(CM4) 1.5GHZ
Dual-Band Frequency 2.4GHz/5GHz WiFi
Mini PCe socket for 4G/LTE communication
M.2 socket for for NVME mass storage
Isolated DI&DO terminal
Isolated RS-485 interface
Built in Backup power ideal for mission-critical applications
Full aluminium enclosure direct contact with the Pi's SoC
35 mm DIN and wall mount
Applications
IoT gateway
4G/LTE router
Edge computing controller
Software define PLC(Programmable Logic controller)
Industry controller
Building automation and control system
CPU
Broadcom BCM2711,Quad-core A72 running up to 1.5 GHz
Memory
Options for 1GB, 2GB, 4GB or 8GB LPDDR4-3200 SDRAM
Storage
On board emmc 8GB to 32GB
M.2 socket for NVME SSD up to 2TB
Wireless​
2.4 GHz, 5.0 GHz IEEE 802.11 b/g/n/ac

Bluetooth 5.0, BLE.
Video Interface​
HDMI 2.0a (up to 4kp60 supported)
---
Interfaces
1 × RJ45 ethernet port support 10/100M/1000M
2 x USB 2.0 Port
1 x HDMI 2.0
2× DI
2x DO
1 x isolated RS485
1 x RS232
1 x mini-PCIe socket with sim card support
1 x M.2 socket with 2242 NVME card support
dual bands 802.11ac Wi-Fi(optional)
Wide power supply support 10.8-36V DC
Extra features
built in UPS with supercap for safe shutdown(optional)
RTC
Stand alone Watch dog timer
Atecc608a(optional)
---
Graphics and multimedia
3D GPU: Supports OpenGL ES 2.0, 1.1; H.264,MPEG4 decode(1080p30);H.264 encode(1080p30)
---
Operating temperature
Dimensions
---
Certifications
Software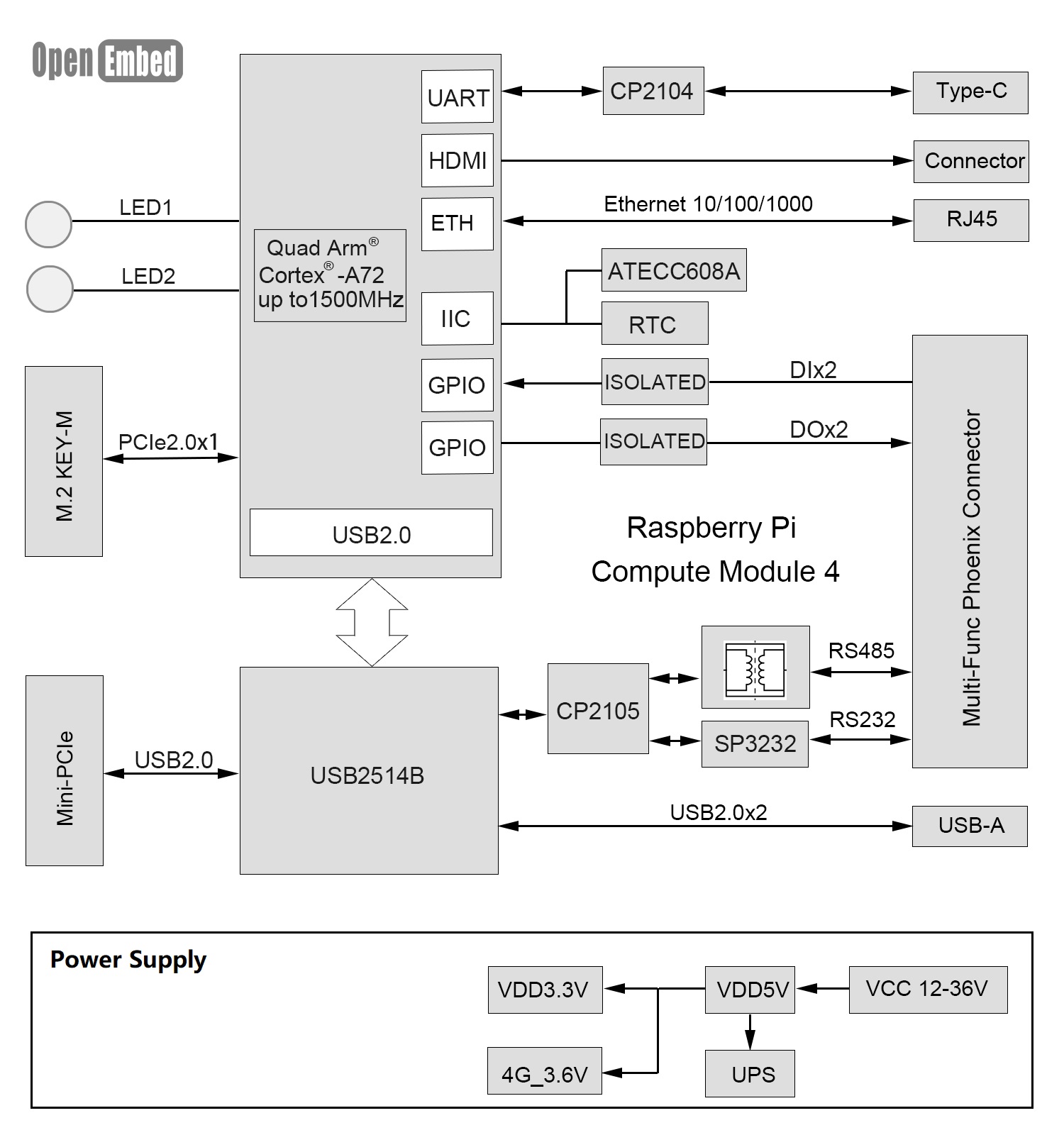 Resource Version Date
---
EdgeBox-RPI4_UM_EN.pdf V1.0 25-07-2021
Basic to run LoraWAN on EdgeBox-RPI4.pdf DRAFT 23-09-2021
FCC Report (EdgeBox-RPI4).pdf FINAL 01-09-2021
CE Report(EdgeBox-RPI4).pdf FINAL 01-09-2021
Video: 01-11-2021
Credit to Basic it stuff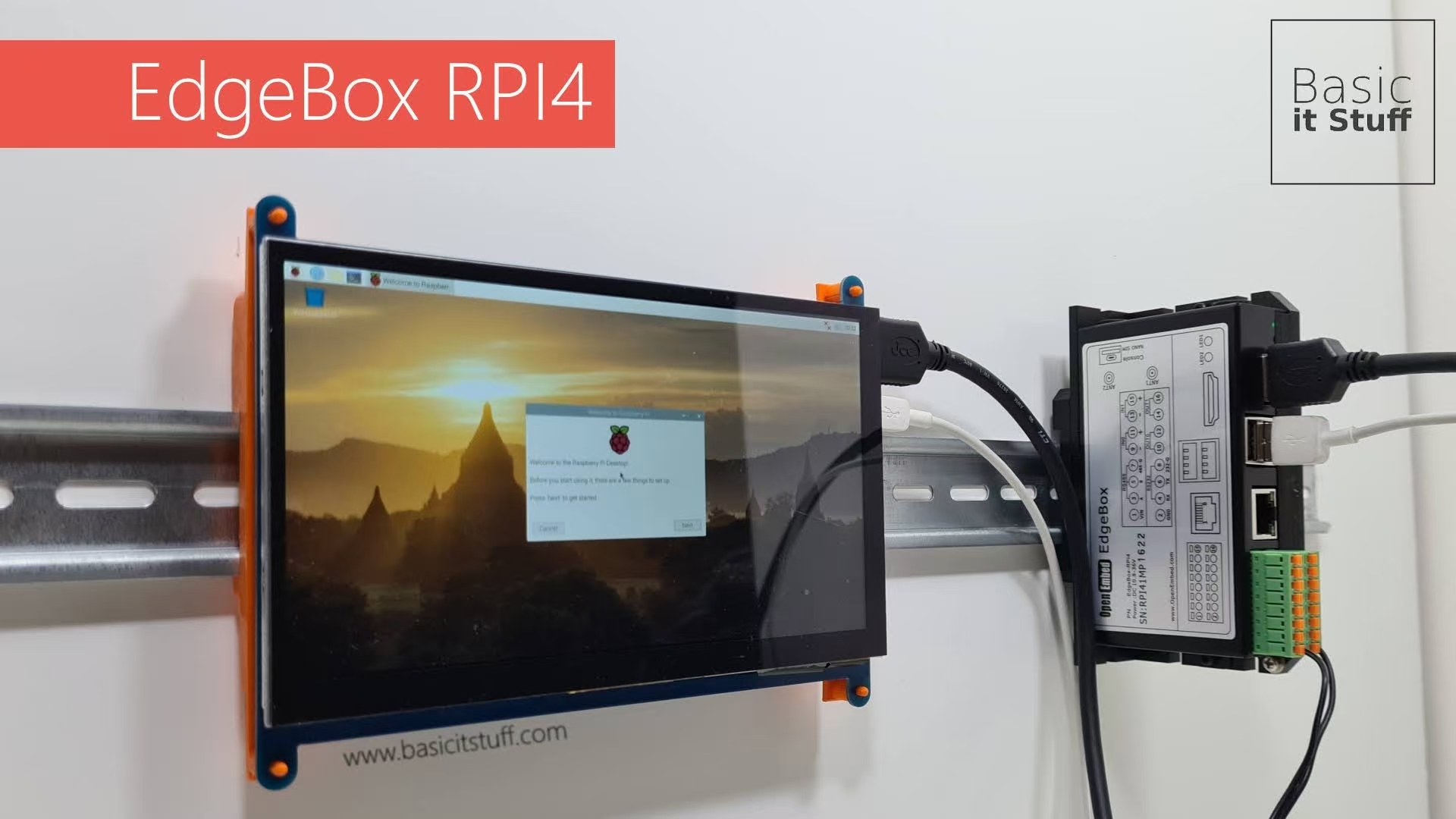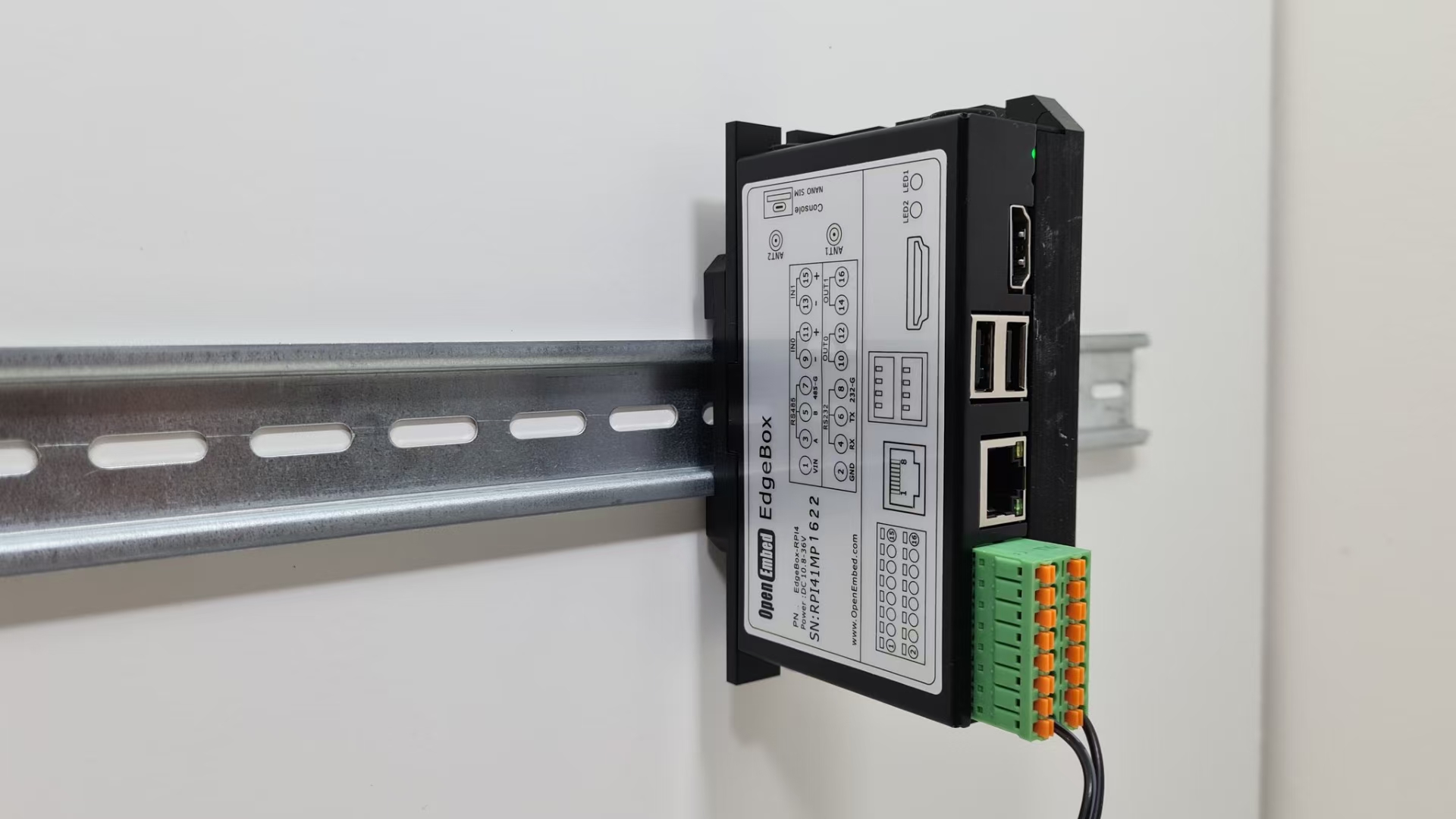 All prices below are specified in USD.
Prices are periodically updated according to variations in component costs. Prices are subject to change without advance notice.
---
P/N template: EdgeBox-RPI4-A-1G8GN-UPS-Encryp
All SKU include:
A: hardware edition
1G8GN: memory 1GB ,eMMC 8GB and NO WI-FI
Configuration P/N: EdgeBox-RPI4-A-1G8GN PRICE: $179
Configuration P/N: EdgeBox-RPI4-A-4G32G-WIFI PRICE: $239
​===================================================================================
Note:
Customizations accepted,please contact sales@OpenEmbed.com for other configrations,
some maybe need MOQ.
All SKUs include:
RTC : real-time clock
WDT : watch dog timer
Optional:
Encryp : Encryption chip ATECC608A
Wi-Fi : Dual-Band Frequency 2.4GHz/5GHz WiFi
UPS: suppercap for safe shutdown
---
Other Quantity Orders:
Pricing is specified for 100-unit orders.Multiply the unit price by the factor to calculate the price for another quantity :
| | |
| --- | --- |
| Qty | Factor |
| 10K | contact us |
| 1K | 0.85 |
| 500 | 0.9 |
| 100 | 1.0 |
| 10 | 1.1 |
| 1 | 1.2 |