SOM1046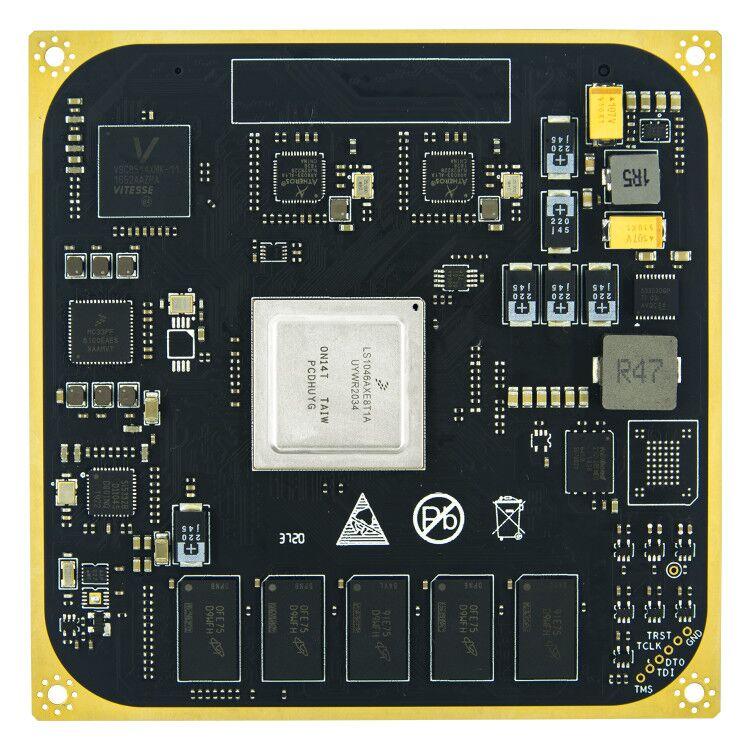 SOM1046
The SOM1046 is a high-performance system-on-module built around NXP's highly successful Layerscape® communications processor.It provides a compact and cost effective solution for networking and industrial applications.
The SOM1046 with integrated packet processing acceleration and high speed peripherals including a wide range of networking, storage, security and industrial applications to a system-on-module.It integrates four 64-bit ARM® Cortex-A72 cores with high-performance peripherals. The impressive performance of more than 32,000 CoreMarks®, paired with 10 Gb Ethernet, PCIe Gen. 3, SATA 3.0, USB 3.0 and QSPI interfaces provides a perfect combination for a range of enterprise and service provider networking, storage, security and industrial applications. The LS1046A and LS1026A with Ethernet PHYs , PMIC, Storagen and ecc DDR4 memory are available in a 95 x 95 mm form fact. The processor LS1046 are pin-compatible with the LS1023A, LS1043A and LS1088A SoCs providing unprecedented performance scaling for 64-bit ARM processors, ranging from dual-A53 through octal-A53 to quad-A72 core processors, while maintaining hardware and software compatibility. This flexible scaling enables customers to leverage their existing software and reuse hardware design for faster time-to-market.
Note:

Product images are for illustration purposes only and maybe don't match what is currently being shipped.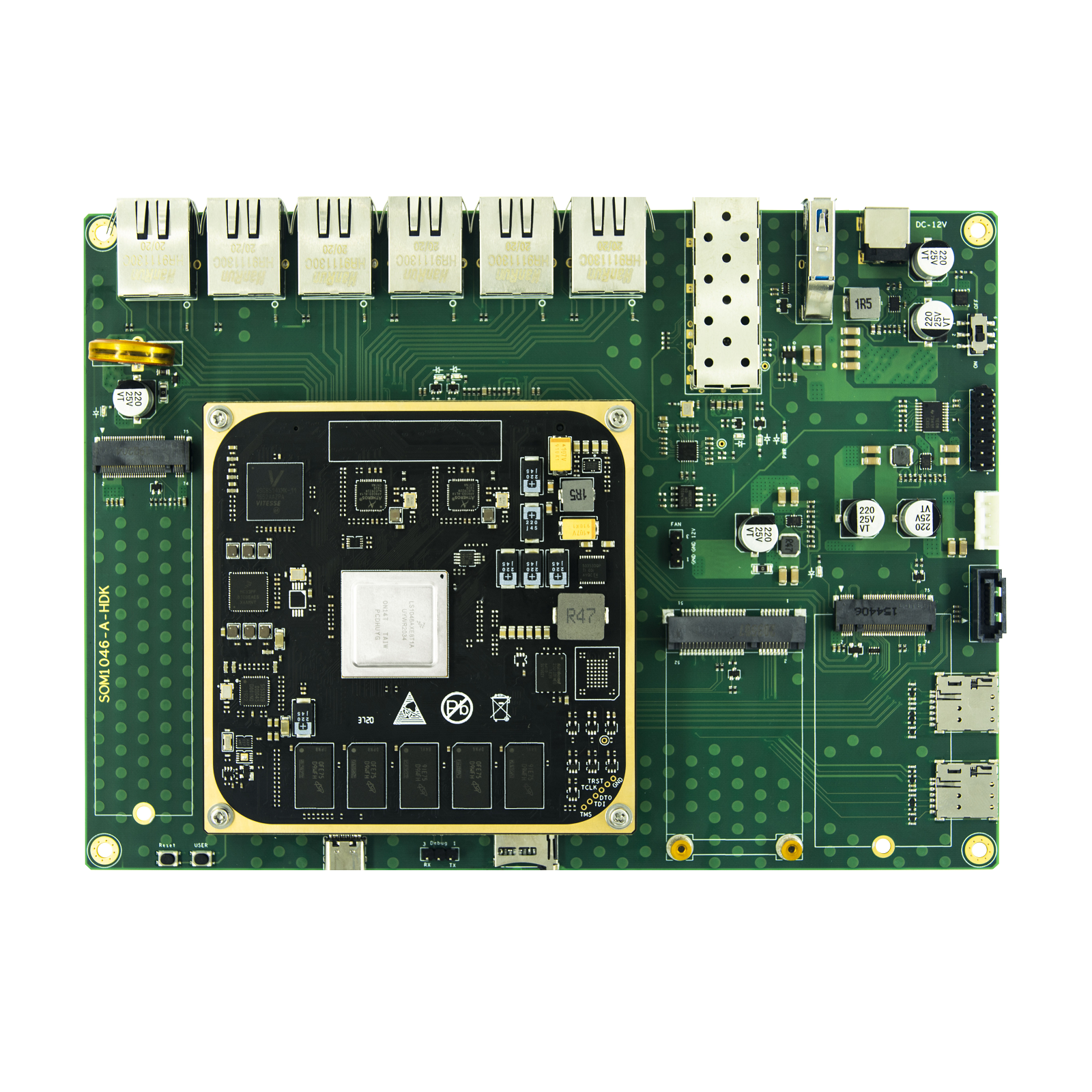 Features:
Arm® Cortex®-A72 cores with packet processing acceleration
64 bit DDR4 with ECC
DPAA support
Up to 2x 10 Gbit Ethernet
High speed communication include PCIe,USB 3.0 and SATA
On board 6x Gagabyte Ethernet PHYs
Up to 3x PCIe interface
Extended temperature range
Small form factor 95x95 mm
CPU
QUAD Cortex®-A72 cores running at 1800 MHz

32-Kbyte L1 Instruction cache
48-Kbyte L1 Data cache
2048-Kbyte Level 2 cache
---
DPAA
Packet parsing, classification, and distribution (FMan)
Queue management for scheduling, packet sequencing, and congestion management (QMan)
Hardware buffer management for buffer allocation and de-allocation (BMan)
Cryptography acceleration (SEC)
---
Interfaces
Up to two XFI (10 GbE) interface
Up to five SGMII interface supporting 1000 Mbps
Up to three SGMII interface supporting 2500 Mbps
2 x10/100/1000M Ethernet with on board Ethernet PHY AR8033
4 x10/100/1000M Ethernet with on board QSGMII PHY
3 x PCI express 3.0 controllers, one supporting x4 operation
One serial ATA (SATA 3.0) controller
2 x high-speed USB 3.0 controllers with integrated PHY
One enhanced secure digital host controller (SDXC/eMMC)
One serial peripheral interface (SPI) controller•
Four I2C controllers
Two 16550 compliant DUARTs and six low-power UARTS (LPUART)
---
Complicances
Software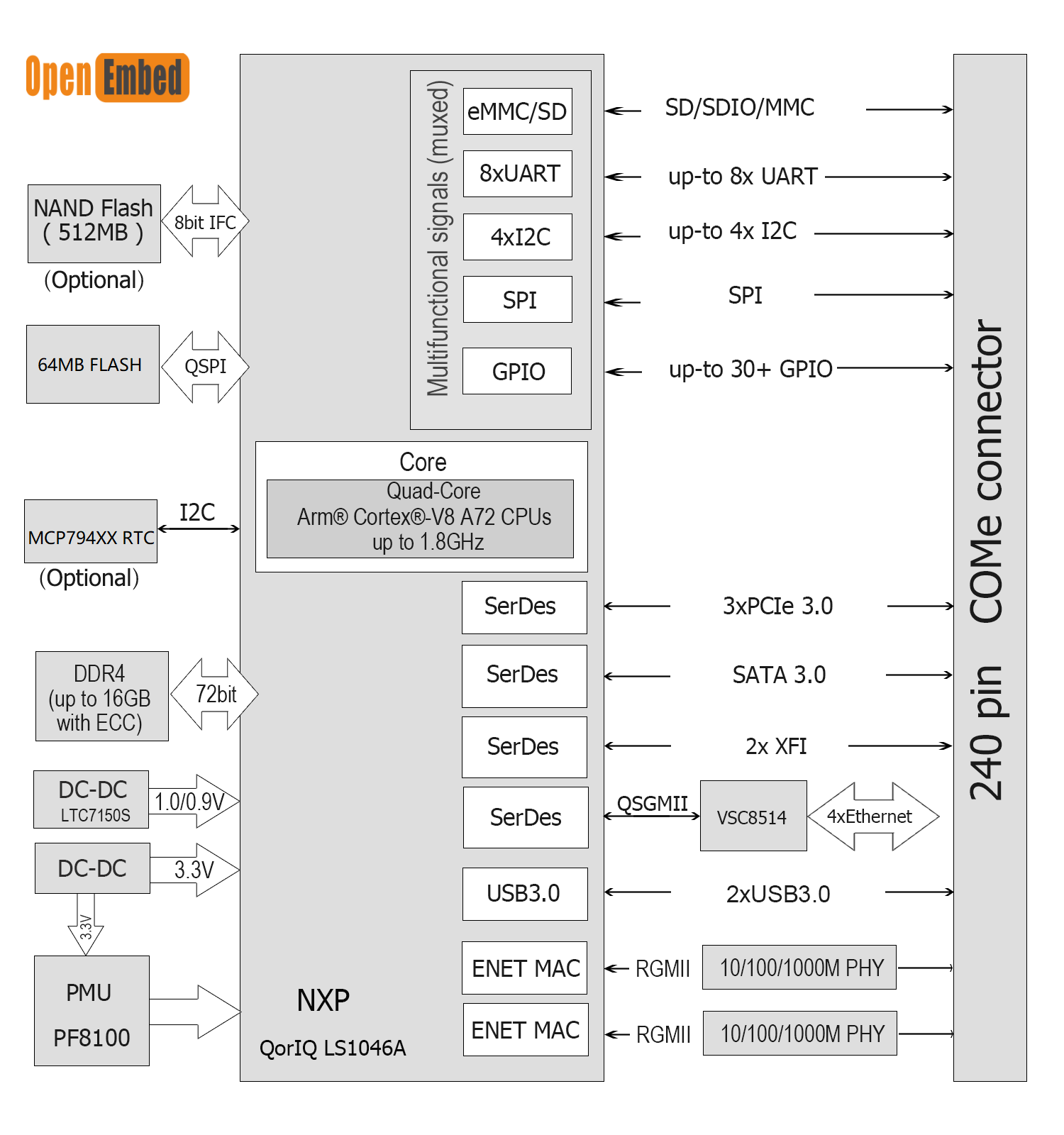 All prices blow are specified in USD.
Prices are periodically updated according to variations in component costs. Prices are subject to change without advance notice.
---
P/N template: SOM1046-AI-4GE-Q64M-RTC
Where:
A: hardware edition
I: industry grade(-40 - 85 dgree),E: consumer grade(0-70 dgree)
4GE: 4GB DDR4 with ECC
Q64M: QSPI FLASH 64MB or other size
RTC: MCP79410 RTC chip
---
Default configuration P/N: SOM1046-AI-4GE-Q64M-RTC PRICE: $299
Advance configuration P/N: SOM1046-AI-8GE-Q64M-RTC PRICE: $349
---
Other Quantity Orders:
Pricing is specified for 100-unit orders.Multiply the unit price by the factor to calculate the price for another quantity :
| | |
| --- | --- |
| Qty | Factor |
| 10K | contact us |
| 1K | 0.85 |
| 500 | 0.9 |
| 100 | 1.0 |
| 10 | 1.2 |
| 1 | 1.5 |