SOM8361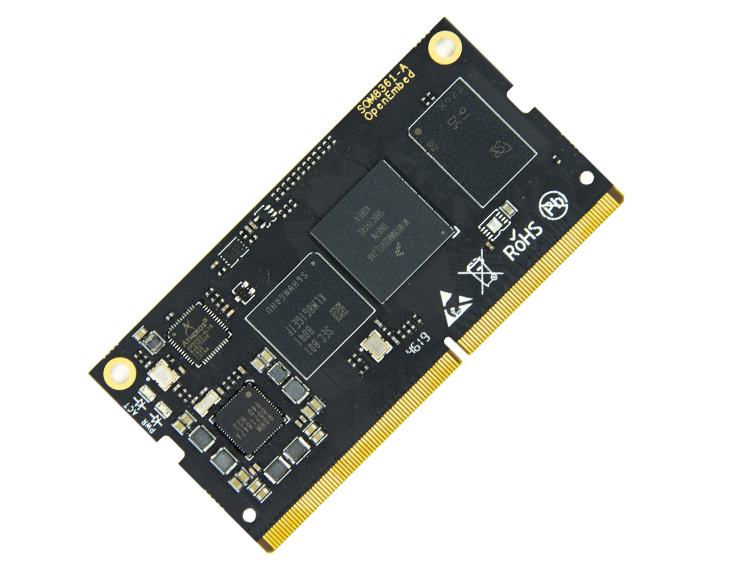 SOM8361
SOM8361 equipped with NXP's first embedded multicore applications processor i.MX 8M Mini built using advanced 14LPC FinFET process technology, providing the balance between performance and power efficiency.
Note: Product images are for illustration purposes only and maybe don't match what is currently being shipped.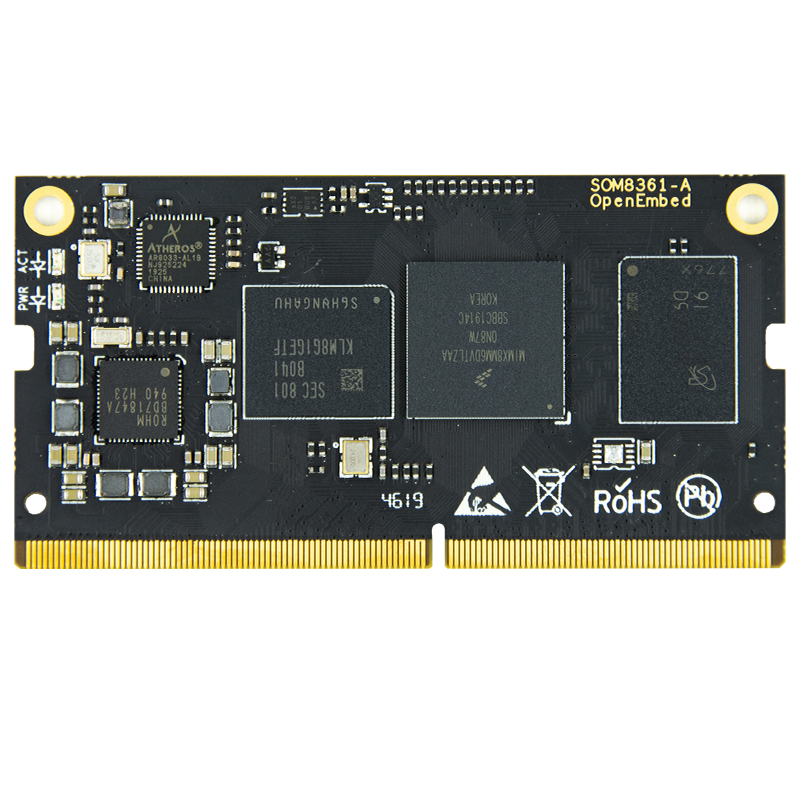 The SOM8361 module supports Quad, QuadLite, Dual, DualLite, Solo, and SoloLite versions of the i.MX8M Mini SoC and clocks the arm A53 cores at up to 1.8GHz,which provides the high performance demands of current video, voice, and audio processing, including video resolutions up to 1080p. With commercial and industrial level qualification and backed by NXP's product longevity program, the SOM8361 family may be used in any general purpose embedded consumer and industrial application.
Features:
SOC i.MX 8M Mini from NXP Up to four Core ARM Cortex-A53 and 1x ARM Cortex-M4F
Scalable i.MX 8M Mini Quad/QuadLite/Dual/DualLite/Solo/SoloLite
Powerful 3D graphics Video quality in 1080p60 Full-HD resolution Industrial temperature range
Up to 4GB LPDDR4 RAM and up to 64GB eMMC
On board gigabyte ethernet phy AR8033
On board high efficiency BD71847 power management IC
Encryption chip ATECC608A
Scalable and long-term support available
SODIMM-style size 69.6x35.5 mm
CPU
Dual or Quad Cortex®-A53 MPCore running up to 1800 MHz

32-Kbyte L1 Instruction cache
32-Kbyte L1 Data cache
512-Kbyte Level 2 cache

Cortex®-M4 core running at 400 MHz

a single-precision floating point unit (FPU)
a full set of digital signal processor (DSP) instructions
memory protection unit for enhanced application security
---
Interfaces
10/100/1000M Ethernet with on board Ethernet PHY AR8033
4 × UART
3 x ECSPI
4 x I2C
5 × SAI (stereo audio: I2S,PDM,SPDIF Tx)
2 × SDMMC with MMC 5.1,SDIO 3.0 and SDXC support
2 x USB 2.0 OTG controllers with integrated PHY
PCIe single lane supporting PCIe Gen2
LCD-TFT interface
MIPI® DSI 4 data lanes
MIPI® CSI 4 data lanes
---
Graphics and multimedia
-GCNanoUltra for 3D acceleration
-GC320 for 2D acceleration
-Support up to 2 layers of overlay
-Support up to 1080p60 display through MIPI DSI
-1080p60 VP9 Profile 0, 2 (10-bit)
-1080p60 HEVC/H.265 Decoder
-1080p60 AVC/H.264 Baseline, Main, High decoder
-1080p60 AVC/H.264 Encoder
---
Complicances
Software
All prices blow are specified in USD.
Prices are periodically updated according to variations in component costs. Prices are subject to change without advance notice.
---
P/N template: SOM8361-AI-1024-8G-Q16M-Encryp
Where:
A: hardware edition
I: industry grade(-40 - 85 dgree),E: consumer grade(0-70 dgree)
1024M: LPDDR4
8G: eMMC
Q16M: QSPI FLASH 16MB or other size
---
Minimal configuration P/N: SOM8361-AE-1024M-8G PRICE: $59
Default configuration P/N: SOM8361-AE-2048M-16G-Q16M PRICE: $79
Industry configuration P/N: SOM8361-AI-2048M-16G-Q16M PRICE: $99
---
Other Quantity Orders:
Pricing is specified for 100-unit orders.Multiply the unit price by the factor to calculate the price for another quantity :
| | |
| --- | --- |
| Qty | Factor |
| 10K | contact us |
| 1K | 0.85 |
| 500 | 0.9 |
| 100 | 1.0 |
| 10 | 1.2 |
| 1 | 1.5 |