SOM1570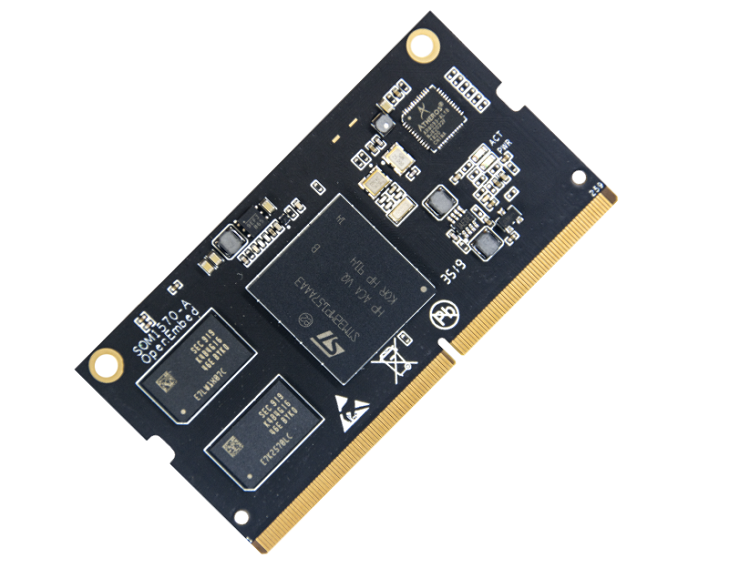 SOM1570
SOM1570 is a module based on the high-performance dual-core Cortex®-A7 32-bit RISC core STM32MP157A operating at up to 650 MHz.The module embedded a very energy-efficient application processor designed to provide rich performance in high-end wearables, and other low-power embedded and industrial applications.
Note:

Product images are for illustration purposes only and maybe don't match what is currently being shipped.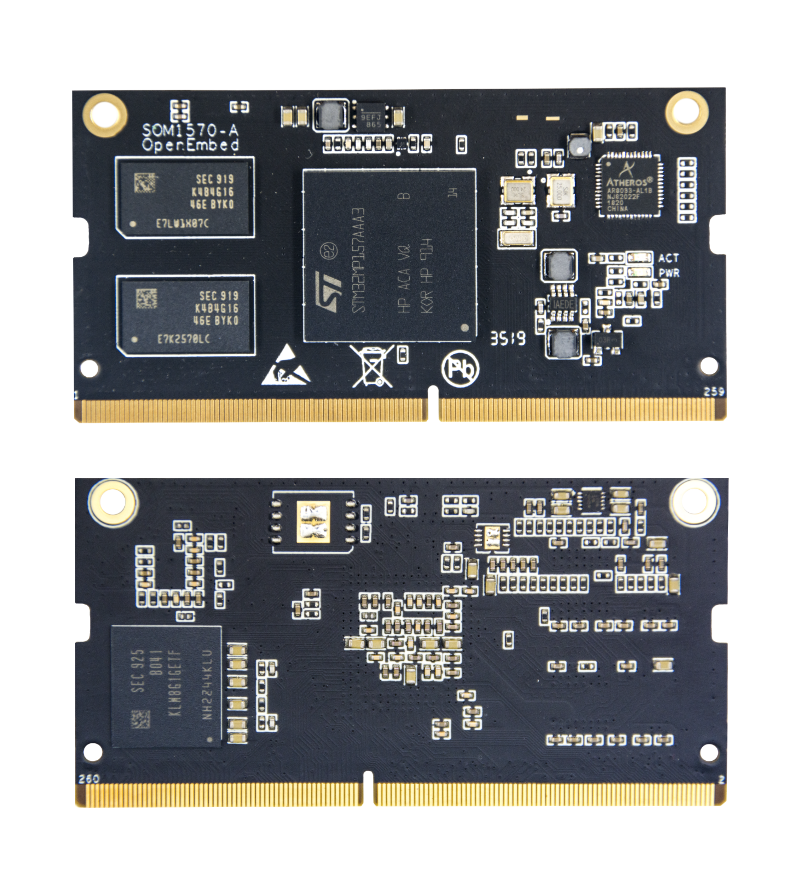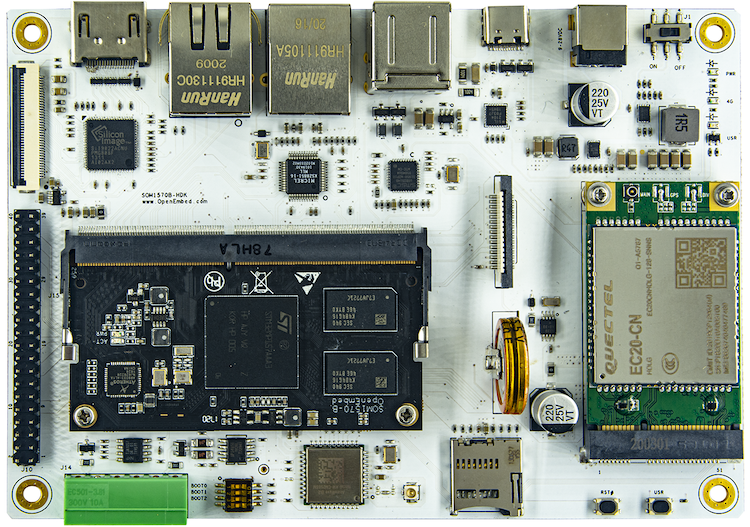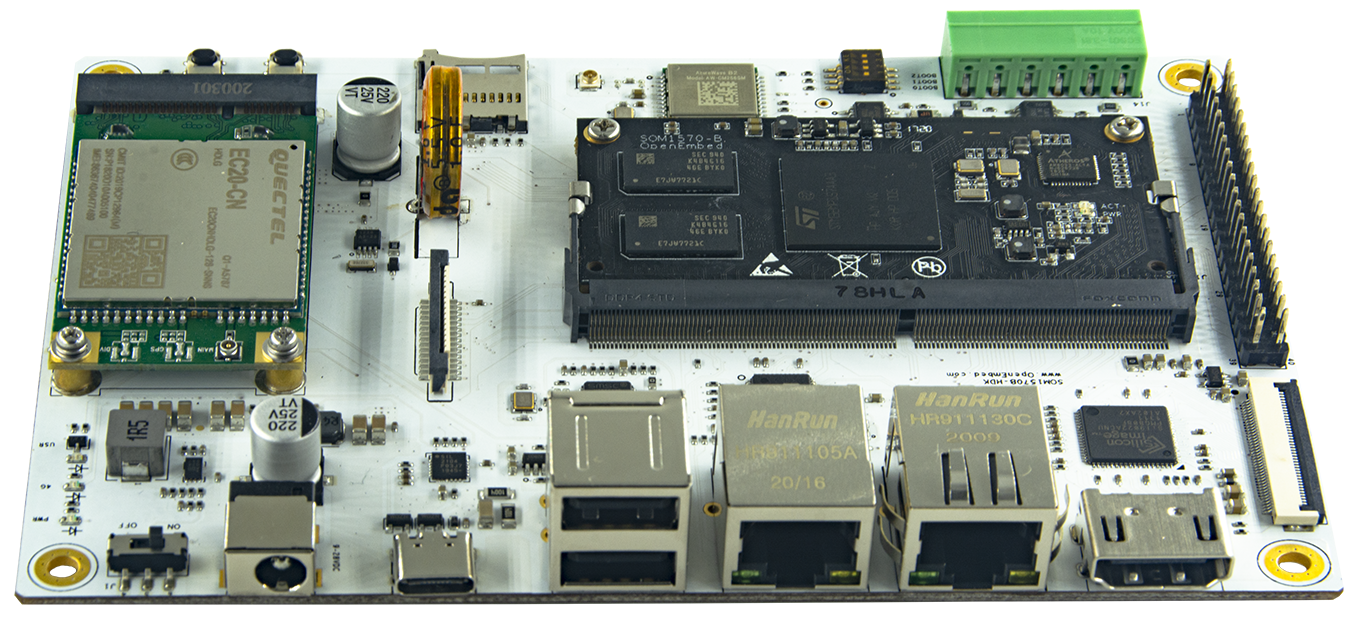 The SOM1570, combines the STM32MP157 multi-core application processor with up to 1GB DDR3L, up to 32MB QSPI flash, up to 64GB eMMC and a 1Gb Ethernet PHY module on a SOM(system on module).STM32MP1 SOC series is based on a heterogeneous single or dual Arm Cortex-A7 core and high-performance Cortex-M4 core architecture, strengthening its ability to support multiple and flexible applications, achieving the best performance and power figures at any time. The Cortex-A7 core provides access to open-source operating systems (Linux/Android) while the Cortex-M4 core leverages the STM32 for real-time OS or baremetal system.
Features:
32-bit dual-core Arm® Cortex®-A7
32-bit Arm® Cortex®-M4 with FPU/MPU
3D GPU: Vivante® - OpenGL® ES 2.0,Up to 26 Mtriangle/s, 133 Mpixel/s
Encryption chip ATECC608A
Hardware Watchdog
On board Qspi flash
On board eMMC
Gagabyte Ethernet
FMC bus for external device
Sodimm form factor 69.6x35.5 mm
CPU
Dual Cortex®-A7 cores running at 650 MHz

32-Kbyte L1 Instruction cache
32-Kbyte L1 Data cache
256-Kbyte Level 2 cache

Cortex®-M4 core running at 209 MHz

a single-precision floating point unit (FPU)
a full set of digital signal processor (DSP) instructions
memory protection unit for enhanced application security
---
Interfaces
10/100/1000M Ethernet with on board Ethernet PHY AR8033
4 × UART + 4 × USART (12.5 Mbit/s, ISO7816 interface, LIN, IrDA, SPI slave)
6 × SPI (50 Mbit/s, including 3 with full duplex I2S audio class accuracy via internal audio PLL or external clock)
4 × SAI (stereo audio: I2S, PDM, SPDIF Tx)
2 × SDMMC up to 8-bit (SD / e•MMC™ / SDIO)
2 × CAN controllers supporting CAN FD protocol, out of which one supports time-triggered CAN (TTCAN)
1 × USB 2.0 high-speed Host+ 1 × USB 2.0 high-speed OTG simultaneously
LCD-TFT interface
MIPI® DSI 2 data lanes
---
Graphics and multimedia
3D GPU: Vivante® - OpenGL® ES 2.0 – Up to 26 Mtriangle/s, 133 Mpixel/s
-up to WXGA (1366 × 768) @60 fps
-Two layers with programmable colour LUT
MIPI® DSI 2 data lanes up to 1 GHz each
---
Complicances
Software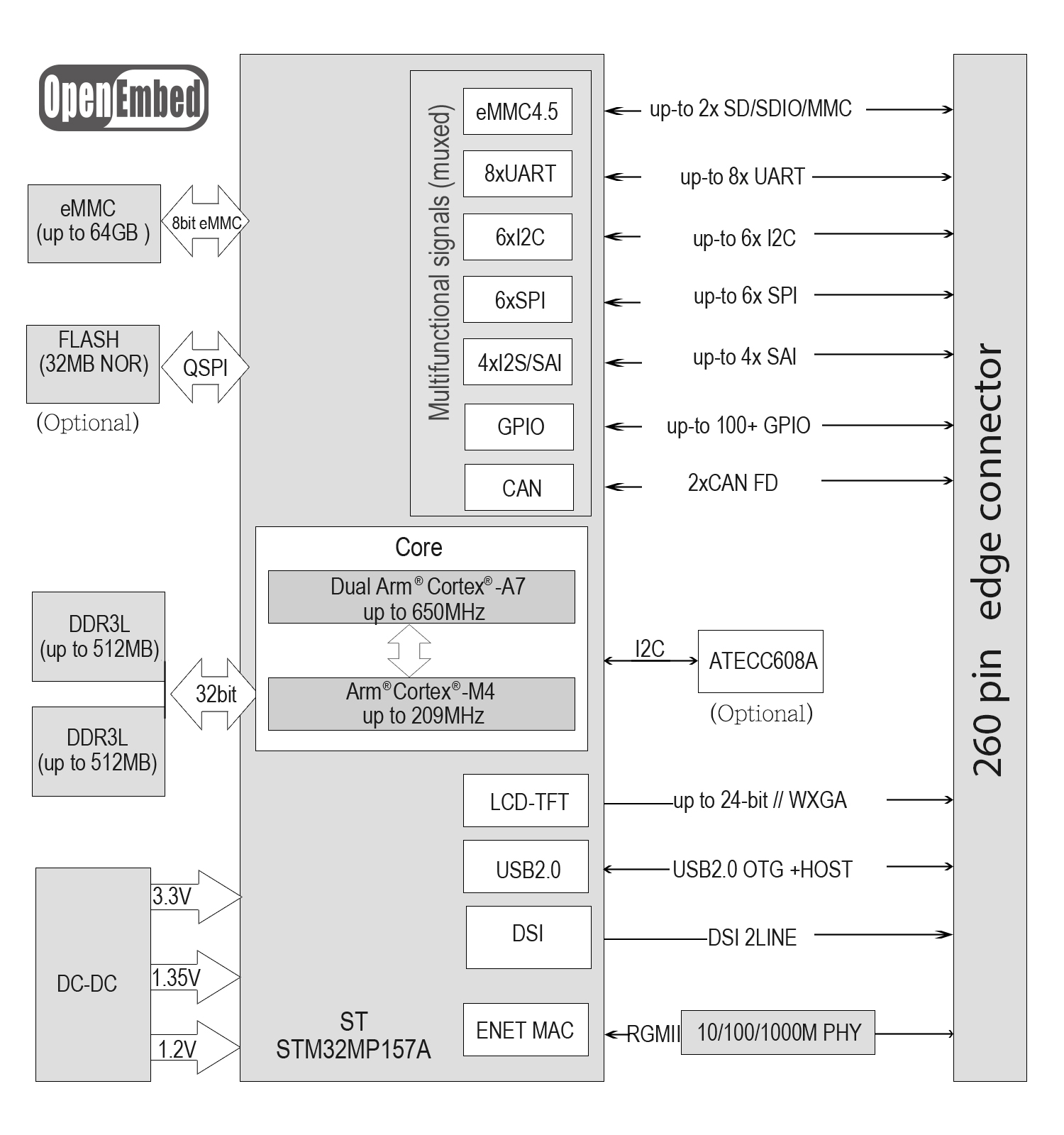 All prices blow are specified in USD.
Prices are periodically updated according to variations in component costs. Prices are subject to change without advance notice.
---
P/N template: SOM1570-AI-512M-8G-Q16M-Encryp
Where:
A: hardware edition
I: industry grade(-40 - 85 dgree),E: consumer grade(0-70 dgree)
512M: DDR3L
8G: eMMC
Q16M: QSPI FLASH 16MB or other size
Encryp:Encryption chip ATECC608A
---
Minimal configuration P/N: SOM1570-AE-512M-4G PRICE: $29
Full configuration P/N: SOM1570-AE-1024M-8G-Q16M-Encryp PRICE: $49
Industry configuration P/N: SOM1570-AI-1024M-8G-Q16M-Encryp PRICE: $69
---
Other Quantity Orders:
Pricing is specified for 500-unit orders.Multiply the unit price by the factor to calculate the price for another quantity :
| | |
| --- | --- |
| Qty | Factor |
| 10K | contact us |
| 1800 | 0.95 |
| 500 | 1.0 |
| 100 | 1.2 |
| 10 | 1.3 |
| Samples | free(contact us) |