EdgeBox-Scale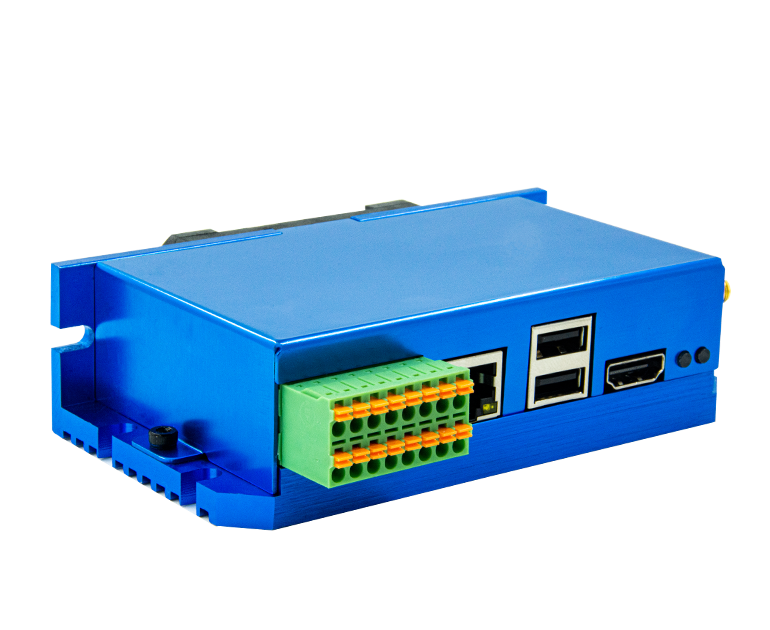 EdgeBox-Scale
Scale is a flexible edge computing architecture.The dual or quad Cortex-A53 cores are dedicated to open-source operating systems while the Cortex-M4 core is dedicated to real-time and low-power tasks.
To make the Industrial IoT and Industry 4.0 a reality, manufacturers must interconnect operations technology (OT), such as manufacturing and automation systems, to their information technology (IT), including inventory, logistics, and customer relationship management systems. EdgeBox is designed to enable the flow of information between these two domains.It will increase efficiency and reduce product delivery times.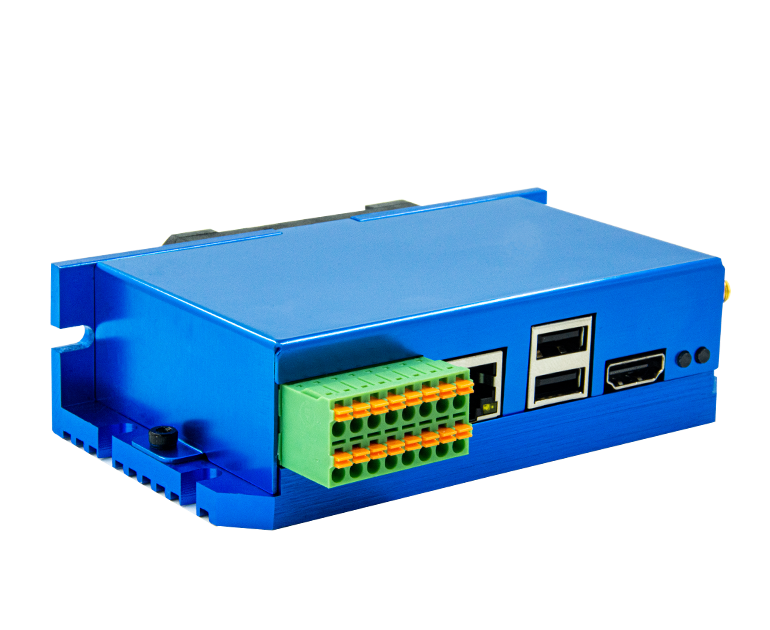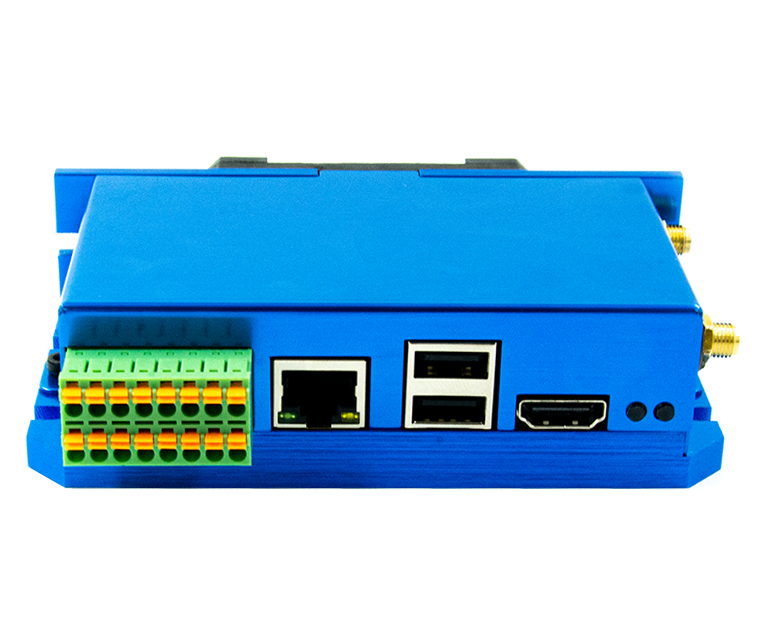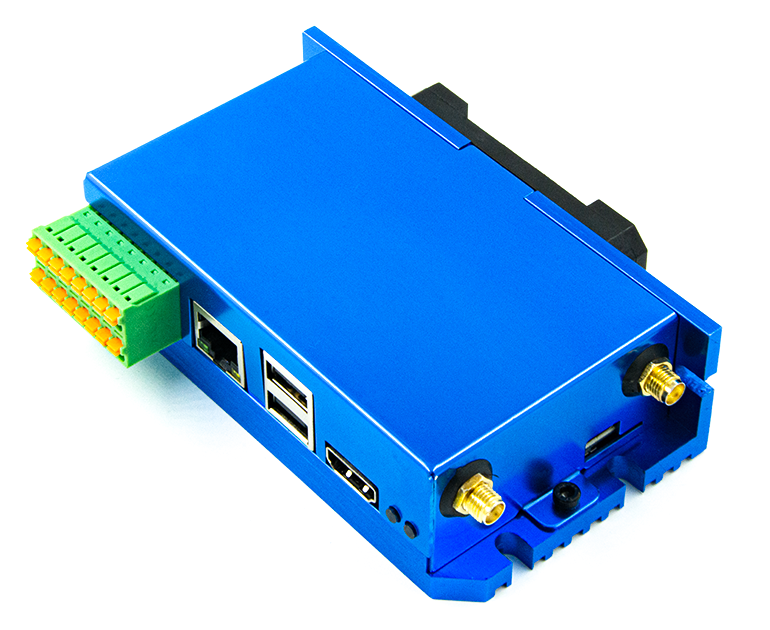 Features:
NXP i.MX8M Mini Based
State-of-the-art Aluminium chassis for Harsh environment
Integrated passive heatsink
Built-in mini PCIe socket with USB,PCIe,SPI,and UART support
SMA antenna holes x2
Modbus over RS485 or Ethernet support
CAN-FD inteface up to 5 Mbit/s for distributed I/O or motion control
Encryption chip ATECC608A
Hardware Watchdog
RTC with Super Capacitor
Wide power supply from 10.8 to 36V DC
35mm DIN Rail support
NOTE: letters in italic mode are differences from EdgeBox-RPI
---
CPU
NXP i.MX8M mini,Quad-core A53 running up to 1800 MHz
---
Interfaces
1 × RJ45 ethernet port support 10/100M/1000M
2 x USB host Ports
1 x HDMI
2× isolated CAN controllers supporting CAN FD protocol
1 x isolated RS485
1 x RS232
1 x mini-PCIe socket with sim card and PCIe support
Wide power supply support 10.8-36V DC
---
Graphics and multimedia
3D GPU: Supports OpenGL ES 2.0, 1.1; H.264,H265 decode(1080p60);H.264 encode(1080p60)
---
Complicances
Software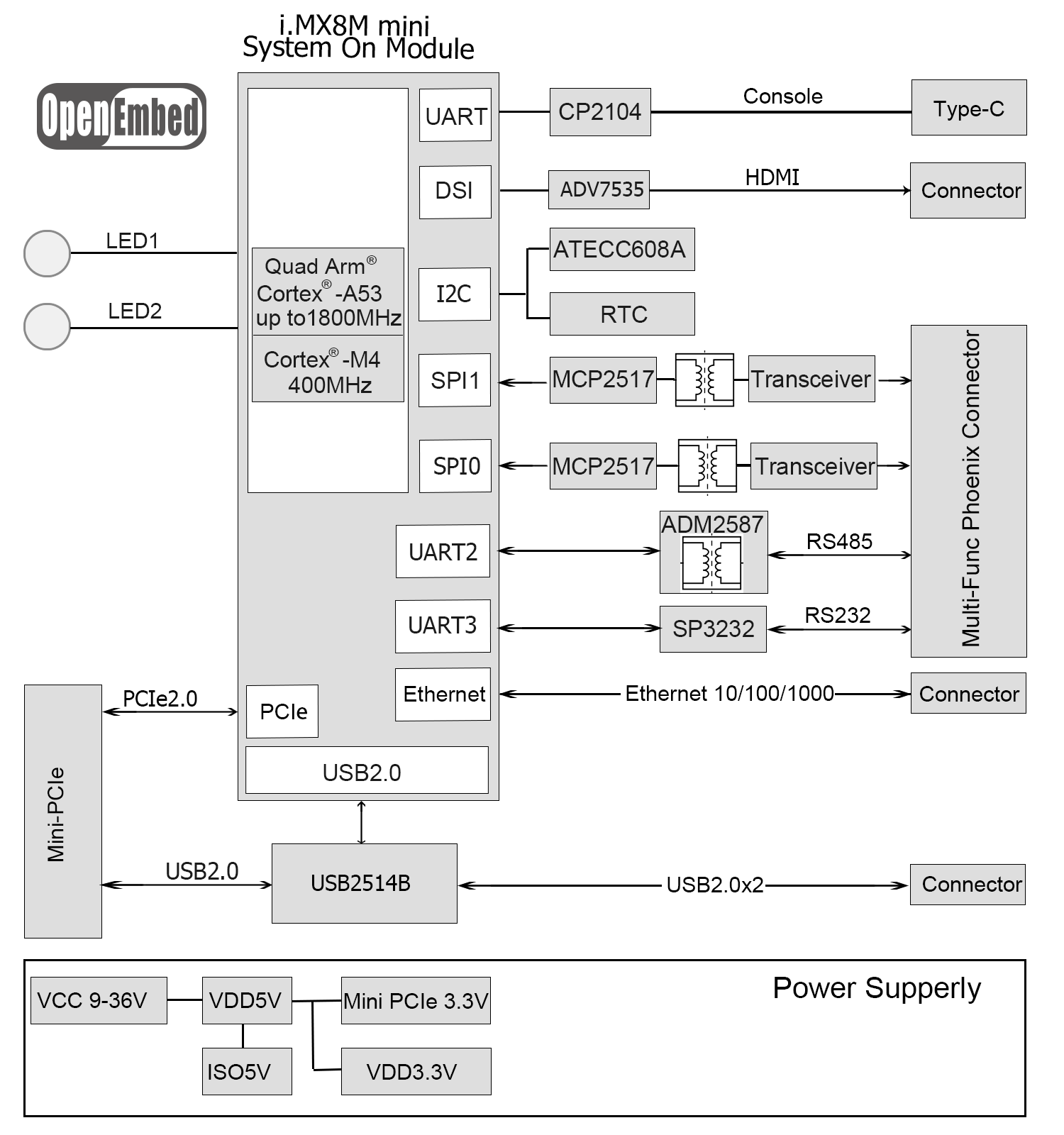 All prices below are specified in USD.
Prices are periodically updated according to variations in component costs. Prices are subject to change without advance notice.
---
P/N template: EdgeBox-SCALE-A-2GB-UART-CAN-Encryp
Where:
A: hardware edition
I: Industry grade(-40,75 degree)
1GB: menory size
UART: Isolated RS485 + RS232
CAN: 2 x CAN FD Interfaces
Encryp : Encryption chip ATECC608A
Entry level configuration P/N: EdgeBox-SCALE-A-1GB-UART PRICE: $119
Default configuration P/N: : EdgeBox-SCALE-A-2GB-UART-CAN-Encryp PRICE: $149
Industry configuration P/N: EdgeBox-SCALE-AI-2GB-UART-CAN-Encryp PRICE: $219
​===================================================================================
Note: The default configration of eMMC storage is 8GB.
Customizations accepted,please contact sales@OpenEmbed.com for other configrations.
---
Other Quantity Orders:
Pricing is specified for 100-unit orders.Multiply the unit price by the factor to calculate the price for another quantity :
| | |
| --- | --- |
| Qty | Factor |
| 10K | contact us |
| 1K | 0.85 |
| 500 | 0.9 |
| 100 | 1.0 |
| 10 | 1.2 |
| 1 | 1.5 |